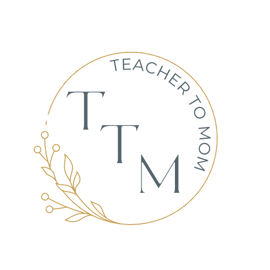 How To Get Organized Using a Bullet Journal and a Calendar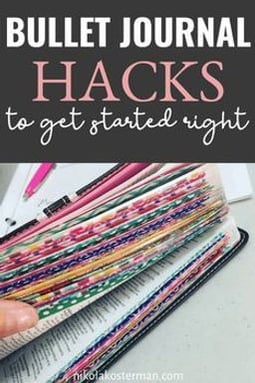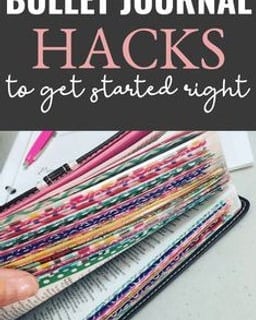 Yay! It's 2023! No better time than to get yourself organized and set up for success in 2023! Do you feel like you know you want to get organized but are so overwhelmed you just put it off? My husband and I are the worst when it comes to "knowing" we have to clean out the garage but when we get to it we are so overwhelmed we get frustrated. Guess what? IT'S OK! That's normal!
Clutter naturally frustrates us whether it is conscious or subconscious. You'd be surprised at how better you feel when everything is decluttered and has its place. That's what I'm going to help you do in regard to brain space. Putting thoughts and thinking down on paper is the easiest way to feel lighter and more on top of your game.
I've written before about digital vs paper resources. You can read about that here. My goal in this post is to thoroughly explain in detail how I use my paper resources in my everyday schedule, planning, and tracking.
I use 2 different paper resources; a calendar and a journal. Let's start with the calendar. I have used so many different types of calendars and journals over the years. It hasn't been because I can't find the right one. In fact, I've found some of the most awesome planners and calendars! I actually was sad to move on from some of them, but I needed to because they were exactly what I needed at that time in my life. Our lives change, so we need to be flexible and know that something we may absolutely love might not provide for us the same way it used to. I've changed calendar formats according to my status in life.
Calendar
In high school, I only needed a monthly spread. Nothing fancy. In college, I needed a monthly and weekly spread. Fast forward to today. WOW. My life has changed a lot since leaving the classroom and working remotely with 7 different income streams. So now I have the best calendar ever! It's by Happy Planner and they come in so many different varieties. You can find them online or in Michael's or Hobby Lobby. They have the cutest stuff!
I love the calendar I have now because it includes everything listed below:
monthly spread

weekly/hourly spread

space for task lists

goal setting worksheet

things to follow up on worksheet

space at the end of every month for me to track goals & plan for the future
I use the goal pages to 'ramp up' my month and I use the end blank page for my monthly 'run down'. It lets me see all I've accomplished and everything I need to work on as well.
These planners are awesome because I can keep the plastic rounders and just buy whatever paper calendar/planner kits I want. There are also TONS of accessories like stickers, washi tape, etc. They even sell bullet journal pages so I'm really thinking about how I can combine my bullet journal with this calendar once the end of 2023 is approaching.
Bullet Journal
There are a lot of assumptions when it comes to bullet journals. First off, if you aren't familiar with the term let me fill ya in. It's a blank slate. A blank, bullet-gridded, blank slate. There are small dots, referred to as bullets, that act as a transparent grid if you will. You are the one that has to create your journal.
One common misconception is that you have to be an artist and be super creative to have a bullet journal. That's total bs! The reason I started my first bullet journal a few years ago was because I was having a hard time finding a journal I thought was a good fit for me. Obviously, I'm a writer and always have been. I just didn't want such a commercial journal. I wanted something of my own. The first thing I did was hit up Pinterest. There are SO many free resources available!!!! I get so much inspiration and ideas from Pinterest. It really gets my creativity going.
I'll touch on those resources in a minute. I want to make sure you understand how awesome bullet journals are just because they can be whatever you want them to be! You can be as colorful and imaginative as you want, or you can be as simple and black and white as you want. In regards to the artistic part, you won't ever know what you are truly capable of until you try right?
I practiced, messed up, practiced some more, and messed up even more when I was learning hand lettering and drawing. Bullet journals are meant to be personal. They're a place to discover, track, and definitely mess up.
What do you track you might be wondering? The short answer is, ANYTHING! The sky is literally the limit! Here are some things I track now, and have tracked in the past.
task lists

weight loss

medicine

health (migraines, stomach issues, etc.)

family wins (things we've accomplished)

goals

passwords

food and water intake

income

savings

financial goals

books I've read

books I want to read

anniversaries and birthdays

content planning for my blog and social media

planning events

venting frustrations

meal plans

business (products, expenses, and income)
To answer your question, yes, this takes a bit of time. The reason I make time and make this part of my nightly routine is because it's like a time-out for me. It relaxes me and lets me destress a bit. It's what works for me and remember, I told you that it's super important you find what works best for you.
If you look at the bottom two pictures you will see they are in pencil and they have a sticky note saying what they are. This is how I lay out my spreads. I grab my trusty sticky notes and tag what will be going onto which page. I then do my research as far as knowing what I want on each page. Each month I will have the same pages but will change up the themes and sometimes I won't even have a theme. I have more pages that are super simple. It doesn't have to be over the top and fancy. It needs to be whatever you want it to be!
Earlier I mentioned I go on Pinterest and use other resources for inspiration. If you are a beginner, I highly recommend you check this blog.
This is such a great resource and it helped me out so much when I was getting started. If I'm having trouble being creative I can always count on getting my jumpstart from this site! You can also check out the Teacher To Mom Pinterest Board for Bullet Journals. I am constantly adding to the board so check back often for new ideas, suggestions, help, and inspiration.
I also recently started a separate TikTok channel, @Journalwithteachertomom. I wanted to document my 2023 bullet journal journey. I know how overwhelming it can be at first and I want to help in any way I can to get you organized and feeling so much better!
Update! Due to overwhelming demand, I have started a website for everything Teacher To Mom Journaling and Planning! It went live in May 2023 and is still building and growing! You can check it out at www.journalwithteachertomom.com!
Don't forget to subscribe so you'll never miss advice, tips, and tricks from a teacher-turned-mom. If you have a question or need help, don't hesitate to use my contact form to reach out. You can also reach me through one of my social media channels by clicking the appropriate icon at the bottom of the page.