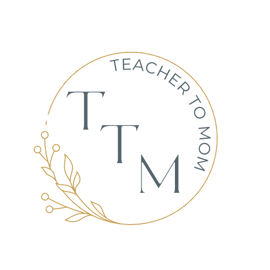 Bullet Journaling For Beginners
Are you seeing all the cute bullet journals people are working on and want one but have no clue where to even begin? This camp is perfect for someone just starting or wanting to start a bullet journal but feeling a bit overwhelmed. Bullet journals are great because you get to customize them completely from beginning to end to suit your unique and specific needs!
The ultimate goal is to be more focused so you can get organized, reach goals, and be successful.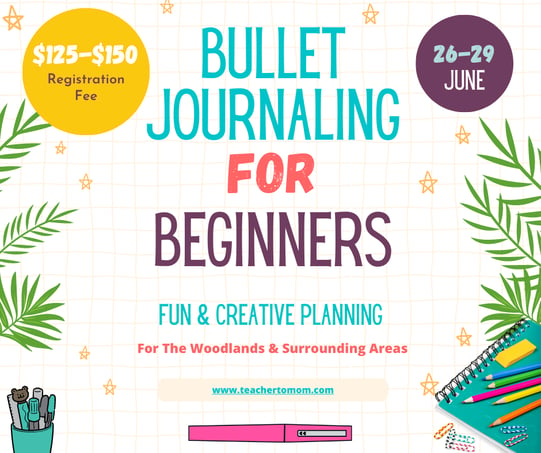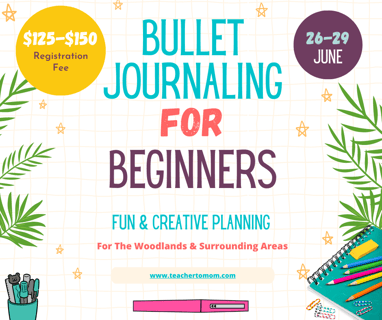 Teachable Topics
How to organize your bullet journal

Spread & layout ideas

Resources

Tools of the trade

Digital options
What's Included
Starter Bullet Journal Kit
Camp Details
This camp is for ages 13 and up, even adults!
CAMP RATE: $125
*ONE-ON-ONE RATE: $150
DATE: Monday, June 26th - Thursday, June 29th
TIME: 9 am - 11 am
LOCATION: Magnolia Woods Office Suites & Meeting Space
506 Honea Egypt Rd.
Magnolia, TX 77354
*ONE-ON-ONE RATE - This rate is for those wanting one-on-one instruction
**Small groups may schedule a camp separately if you wish to have a group of friends
After clicking Register you will be redirected to the shop page where you will purchase the appropriate camp. Thank you and I look forward to seeing you at camp!
Registration is not complete until payment is received
Bullet Journaling For Beginners is PERFECT for a group of friends! No matter the age, you'll find the information, resources, & tools shared invaluable to getting started!
Already have your bullet journal started but you're feeling stuck? This is for you too!
Contact me to schedule a time for your group!